2022 Price List For Cranes 
*These prices reflect hourly rates
                             *There is additional fees for Prevailing Wage/Davis Bacon
---
*Monthly rates are negotiable
25 ton hydraulic cranes..110′ height..$150
Travel Permit $10.50 or $1 per mile outside Missoula city limits
40 TON HYDRULIC CRANE……..140′ HEIGHT..$185
Travel Permit $10.50 or $1 per mile outside of Missoula city limits
50 ton hydraulic crane…..170′ height….$185
Travel Permit $17.00 or $1 per mile outside Missoula city limits
65 ton hydraulic crane…..170′ height…..$240
Travel Permit $17.00 per 25 miles or $1 per mile outside Missoula city limits
70 ton hydraulic crane…..175′ height…..$240
Travel Permit $17.00  or $1 per mile outside Missoula city limits
75 Ton Hyraulic crane…….223′ hEIGHT…..$245
Travel Permit $17.00 or $1 per mile outside Missoula city limits
90 ton conventional……..240′ height…..$245
Additional charge for mobile and assembly
Travel Permit is included in mobile
100 ton conventional…….240′ height…..$245
Additional charge for mobile and assembly
Travel Permit is included in mobile
Fuel Recovery Fee on jobs outside Missoula city limits
120 TON HYDRAULIC………….260′ height…..$370
Additional charge for trucking
Travel Permit $17.00 or $1 per mile outside of Missoula city limits
Fuel Recovery Fee for jobs outside Missoula city limits
8 hour minimum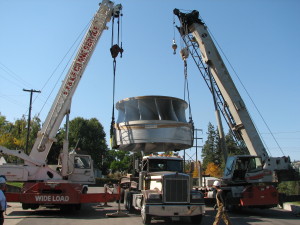 Additional Services Offered
We are a full service rigging company. Call for quote.
Rigging/Signal Person
Pilot Car with Driver
Pile Driving and Pile Hammer Capability
Lifting Attachments and Accessories 
Small Set Machinery Jacks and Rollers
Large Set Machinery Jacks and Rollers
Suspended Man Basket
Clam Shell
Wrecking Ball
Trash and Material Skips
Steel Lifting Plates
Specialized Rigging
Expandable Spreader Bars
Box Type Spreader Bars
Truss Spreaders and Hooks
Tilt-up Spreader Beams and Rigging
Long/Heavy Slings
Chain Hoists
Heavy Timber Mats
Vast Selection of Cribbing
Storage
We will receive your equipment at our facility (by the Missoula International Airport), offload and store it, then load and help set up delivery to your job site when you are ready. Call for a quote.
Please Contact Us for Free Quotes on Cranes and Additional Services!
* all crane prices reflect an hourly rate that includes operator, insurance and maintained cranes. There is a three hour minimum on all hydraulic cranes and an eight hour minimum on the first day for all lattice cranes, with a four hour minimum everyday after that. All prices reflect gate to gate mobile of crane from D&G crane yard. Prices are subject to change without notice. All additional services are available with crane rental only.
Need something else? Use our Contact Us page.